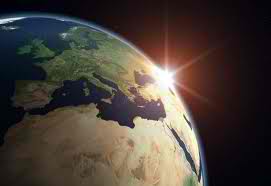 "All parts are one stupendous whole, whose body nature is… and God its soul." ~Alexander Pope


The purpose of life is to realize our oneness with God, which is everything within ourselves and everything without ourselves, hence all of creation, and our physical reality which comes from within. Take for instance our ocean as an infinite ocean and an example of God. God being unconscious of him/herself desired to know itself. Like most of us do today, we are unaware of ourselves and look outside for an external form of reference of who we think we are. As we look outside of ourselves for answers we will find nothing, as God once did before the beginning (the Big Bang). There was nothing outside of itself because God is all there is. All there is did the only thing it could do, God began to look within itself and then decided to implode turning itself inside out. That explains the big bang and the beginning of all creation. We are literally within God. We are the universe, God and infinity and the universe, God and infinity is YOU! As Jesus once said,

"Behold, the kingdom of God is within you." ~Luke 17:21

From absolute oneness the illusion of relativity, separation and "Duality" emerged. Suddenly Duality made it seem like it can be here and there, far and near, black and white, up and down. And for God to fully experience her/himself, God became the many, first, from the mineral world, to plant life, through all animal, and finally through YOU and me. However this may seem similar to Darwin's theory of evolution, it is not! It is the opposite of Darwin's theory of evolution. The experience of evolution and the Gods is the development of consciousness, thus explaining that physical form follows consciousness not the other way around. Like a drop of water from the infinite ocean it is the same in kind and quality as the whole, as quoted in the previous blog post "7,000,000,000" by Kahlil Gibran,

"I discovered the secret of the sea in meditation upon a dew drop."

Like every drop of water it is its own individual soul, and its own universe. Every drop of water feels separate from the ocean, and this is what gives us the illusion of individuality to gather experience for the infinite mind. After we evolve consciously the human form is attained. Ours souls reincarnate to gain more experience for the infinite mind, thus describing the reason for "Karma," which is the spiritual law of "Cause and Effect." The increasing notion of consciousness also gives rise to the illusion of separateness, "The Ego." Click here to watch a video of The Ego.
The next question arises, where are we going with this? Where is this taking us? One of the dominant trends of evolution is the linking of small units into larger units. It is seen as an example in the atom, the linking of protons, neutrons, and electrons, to the linking of combinations of atoms into combinations of molecules found in minerals and the elements, and then the spark of life. From molecules into cells and DNA, such as plant and animal life, the next stage of evolution has already begun known as civilization and societies throughout the world. Now as we have linked at the physical level, we are beginning to link regardless of distance as a result of telecommunication and the iIternet, especially now with technologies advancements we are beginning to exchange information with each other regardless of physical distance. This is the next phase of evolution the linking of mind to mind. In theory the interesting parallel is that it took approximately 7,000,000,000 atoms to create the molecule, and approximately 7,000,000,000 nerve cells to create the human brain and the characteristic of humanity. Consequently, there is approximately 7,000,000,000 people on earth, and through the process of inductive reasoning it is the next phase of evolution which is consciousness into global evolution of consciousness. Again, there is a parallel between the development of societies and civilization and the human embryo, as shown in the video of 7,000,000,000 (Click here to see video)


(to be continued…)


"A dream you dream alone is only a dream. A dream you dream together is reality" ~John Lennon